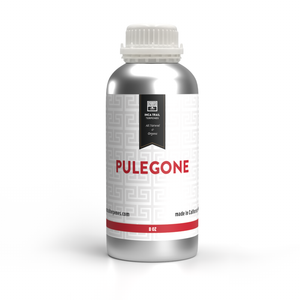 Pulegone
Are you familiar with the rumor that the scent of rosemary helps improve one's memory? This is due in part because of the terpene pulegone, which rosemary has a large concentration of.  
This terpene has a sweet rosemary and peppermint-like aroma, and to no surprise, is also found in peppermint, pennyroyal, and creeping Charlie. It's a popular terpene used in perfumes and essential oils – it's also used in candles, as its scent tends to linger and is quite powerful. You'll find it in hard candies as well to accentuate both taste and aroma.
Pulegone's effects and odor are very much disliked by bugs, making it a strong insect repellent.
Though pulegone is found in very low concentrations within the realm of cannabis, most strains containing a hint of rosemary or peppermint will have traces of this terpene.
Our Terpene Blends contain NO cannabis, THC, CBD. They're non-psychoactive and sourced from botanicals. No cutting agents - We don't use any additives, diluents, or carrier agents to artificially enhance or dilute our products. 

---
We Also Recommend
---