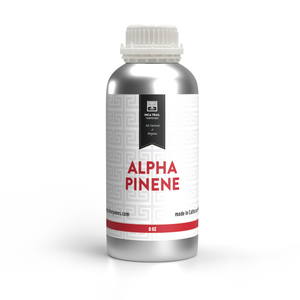 Alpha-Pinene
Pinene has a distinctly refreshing aroma. The pine scent which it exudes feels clean, nourishing, and elevating. Pinene is found primarily in pine needles, basil, parsley, and rosemary. If you need a concentration boost coincided with a feeling of alertness and anti-inflammatory effects, pinene is the optimal terpene isolate.
One of the major drawbacks to cannabis use is the short-term memory loss associated with THC. However, feelings of focus and alertness are common in strains containing high levels of pinene.
Our Terpene Blends contain NO cannabis, THC, CBD. They're non-psychoactive and sourced from botanicals. No cutting agents - We don't use any additives, diluents, or carrier agents to artificially enhance or dilute our products.

---
We Also Recommend
---