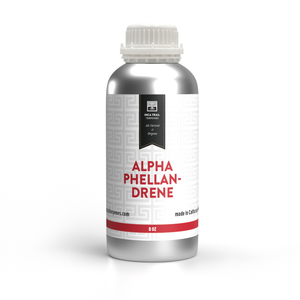 Alpha-Phellandrene
Alpha-Phellandrene is extracted from and found in many plants including:
Eucalyptus
Ceylan cinnamon
Black pepper
Corn parsley
Water fennel
Canada balsam
Ginger grass
Angelica
Lavender
Mint
Dill
Grand fir
Parsley
Pine
Alpha-Phellandrene is popular the perfume industry because of the isolate's pleasant natural aroma. The terpene has also been a part of some studies to uncover its possible homeopathic benefits. Phellandrene has been commonly used in Chinese medicine to treat fungal and bacterial infections. Herbs heavily made with this terpene are also popular in Eastern medicine for reducing phlegm and to alleviate a general lack of energy.
There have also been multiple studies regarding the anti-cancer properties of alpha-phellandrene. -In vivo research showed that the terpene could promote natural anticancer cells in the body.  Similarly, Anticancer research suggested that phellandrene could cause cell apoptosis of leukemia cells. It is possible that phellandrene could actually help our body build a natural defense to cancer.
Alpha Phellandrene has an aroma that is described as herbaceous, citrus, peppery, minty, and slightly green/woody.
Our Terpene Blends contain NO cannabis, THC, CBD. They're non-psychoactive and sourced from botanicals. No cutting agents - We don't use any additives, diluents, or carrier agents to artificially enhance or dilute our products. Large orders may be subject to a lead time.

---
We Also Recommend
---