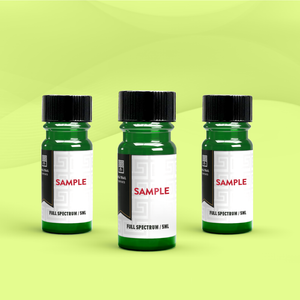 Terpene Sample Request
During the check out process please make sure to give us your business info and what products/blends/isolates you are interested in by typing it into the order's "Note" section on the [SHOPPING CART] page.
Your sample request will be voided without this information.

WE WILL NOT SEND SAMPLES TO THOSE WITHOUT A BUSINESS AFFILIATION.
-----------------------------------------------
We supply the highest quality terpenes in hundreds of blends, Isolates, and profiles. We are so confident that you'll love our terps we're willing to send you a sample.
If you are a bulk buyer or a business looking for a new terpene supplier and you would like to try a new blend you can request a sample by ordering this product priced at $0.
For larger sample, information, and custom blend requests you will be contacted by our team directly.
---