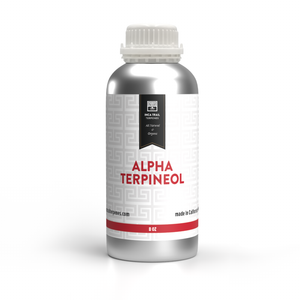 Alpha-Terpineol
Alpha-Terpineol has a very pleasant and inviting aroma with a scent resembling a combination of lilac flowers, lime tree blossoms, and eucalyptus sap. It also has faint notes of pine and nutmeg.
This isolate is extracted from many sources including flowers like narcissus and freesia, and in herbs, such as marjoram, oregano, rosemary and lemon peel. A-Terpineol is often produced for fine perfumery. Its high purity offers an outstanding odor - one that is clean, delicate, and sweet. 
Our Terpene Blends contain NO cannabis, THC, CBD. They're non-psychoactive and sourced from botanicals. No cutting agents - We don't use any additives, diluents, or carrier agents to artificially enhance or dilute our products. 

---
We Also Recommend
---