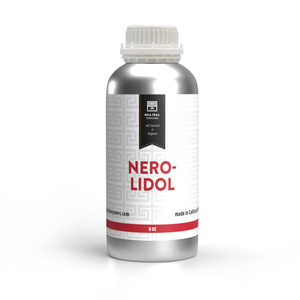 Nerolidol
Aside from cannabis, this terpene isolate is found primarily in the essential oil neroli, from which comes its name. Most products scented or flavored with orange blossom use this extract. Other natural sources of nerolidol include ginger, jasmine, lavender, tea tree, and lemongrass.
Nerolidol exudes a sweet and flowery fragrance with citrus and wood tones. It's also described as having characteristics of apple and rose. Nerolidol contributes a soothing, relaxing feeling to the entourage effect, being very nearly a sedative. It's touted as being good for fighting anxiety.
Our Terpene Blends contain NO cannabis, THC, CBD. They're non-psychoactive and sourced from botanicals. No cutting agents - We don't use any additives, diluents, or carrier agents to artificially enhance or dilute our products. 

---
We Also Recommend
---