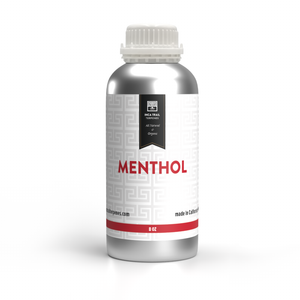 Menthol
Menthol, also called peppermint camphor, is a terpene isolate with a strong minty, cooling odor and taste. Menthol is used medicinally in ointments, cough drops, and nasal inhalers. It is also used as flavoring in foods, cigarettes, liqueurs, cosmetics, and perfumes.

Menthol is an antioxidant and an anti-inflammatory. This enables it to help with pain associated with many chronic conditions, such as arthritis and it can also be a potent boost to the immune system. Menthol is a wax-like terpene that is commonly found in peppermint and spearmint plants. It's also found in cannabis, as well as other plants. Menthol's cooling effect makes it great to add to shampoo hand sanitizer.
Our Terpene Blends contain NO cannabis, THC, CBD. They're non-psychoactive and sourced from botanicals. No cutting agents - We don't use any additives, diluents, or carrier agents to artificially enhance or dilute our products. 
---
We Also Recommend
---