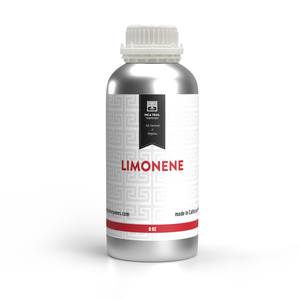 Limonene
Limonene is a monoterpene found in the peels of many citrus fruits like lemons, limes, and oranges. Limonene has a handful of potential applications as well as paramount potential if studied and researched exhaustingly. It is a powerful antidepressant and immunostimulant. It adds a vibrancy and brightness which is very beneficial for those with mood disorders. 
Limonene is anti-inflammatory and is commonly used in dietary supplements as it promotes weight loss. Limonene is safe to be used in foods, beverages, and is often used as flavoring in chewing gum and candy for its potent and mouthwatering lemon flavor. In pharmaceuticals, limonene is added to help medicinal ointments and creams penetrate the skin. Studies have shown limonene has a permeation enhancement and essentially opens the door for other compounds to be able to seep through and enter the bloodstream more efficiently.
In manufacturing, limonene is used as a fragrance for its pleasing lemon smell. It is also used as a cleaner, for example, as a solvent in the removal of oil from machine parts. It is also a primary ingredient in water-free hand cleansers, making it great for home products like cleaners and scrubs!
Our Terpene Blends contain NO cannabis, THC, CBD. They're non-psychoactive and sourced from botanicals. No cutting agents - We don't use any additives, diluents, or carrier agents to artificially enhance or dilute our products.

---
We Also Recommend
---