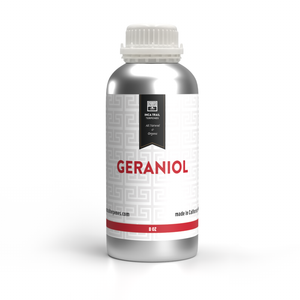 Geraniol
Commonly extracted from roses, the compound also occurs in blueberries, coriander, lemons, nutmeg, and thyme, among other natural products. Due to its sweet, floral rose aroma, geraniol is used commonly in perfumes, cosmetics, and food flavorings. It is also the primary component of citronella oil, naturally repelling mosquitos (but attracting bees).
As is the theme with these terpenes, geraniol has a diverse array of health benefits and a lot of potential. The compound is naturally anti-inflammatory, antioxidant, anti-bacterial, and antifungal. A study done on hamsters found geraniol helps prevent atherosclerosis (plaque build-up inside arteries). Plaque buildup can lead to serious issues like heart disease (the #1 killer in the world), heart attack, stroke, and death. There are yet to be any studies which claim the compound has this effect on humans. 
In a study done on rats, geraniol was shown to ameliorate hyperglycemia by "attenuating key enzymes of carbohydrate metabolism in streptozotocin-induced diabetic rats." That's not all, the rose-extracted terpene has also exhibited anti-cancer properties. Experimental evidence supports the therapeutic or preventive effects of geraniol on different types of cancer, such as breast, lung, colon, prostate, pancreatic, and hepatic cancer, and has revealed the mechanistic basis for its pharmacological actions. 
Our Terpene Blends contain NO cannabis, THC, CBD. They're non-psychoactive and sourced from botanicals. No cutting agents - We don't use any additives, diluents, or carrier agents to artificially enhance or dilute or products. 
---
We Also Recommend
---