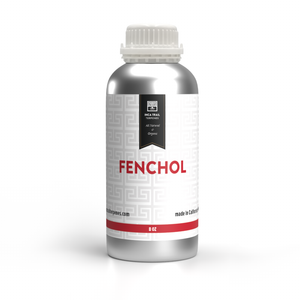 Fenchol
Fenchol is a solid terpene found in basil, cannabis, among other plants and is prized for its earthy aroma. In contrast to terpenes such as geranyl and geraniol, both of which are notably sweet, Fenchol possesses a piney, camphor-like flavor. 
The invigorating scent of fenchol makes it useful as a component of liquid and powder detergents and fabric softeners. The fine-fragrance industry makes more use of the terpene than any other industry, as fenchol is a very popular ingredient in perfume. Consider making your own homemade perfume or other scented product using Fenchol.
Preclinical studies have shown Fenchol to be beneficial in protecting the brain against Alzheimer's disease pathology. 
Our Terpene Blends contain NO cannabis, THC, CBD. They're non-psychoactive and sourced from botanicals. No cutting agents - We don't use any additives, diluents, or carrier agents to artificially enhance or dilute our products.  This isolate will arrive in a solid state.

---
We Also Recommend
---