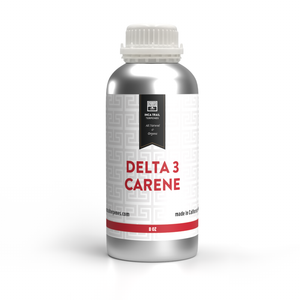 Delta 3 Carene
Have you ever been walking through a forest and been allured by the smell of pine trees? Delta 3 Carene emits a similarly intoxicating aroma with hints of a sweet, woody, pungent smell. 
Delta 3 Carene is extracted from citrus, cypress, pine and wood, and it exudes a sweet, pungent scent. It is also produced by plants like cannabis, including rosemary, pine trees and cedar trees. The terpene has been used in a number of industries including food, cosmetic, and medical.
Often referred to as the bone-repairing terpene, Delta 3 Carene has some very potent medical qualities. This is largely due to the potent anti-inflammatory properties exhibited by this terpene.
Anecdotal evidence and research shows us that Delta 3 Carene can actually boost bone healing for a quicker recovery. This is largely beneficial for individuals suffering from arthritis, bursitis, fibromyalgia and researchers are hopeful it can benefit individuals battling osteoporosis and osteoarthritis. This can also prove beneficial from anyone recovering from malnutrition.
Our Terpene Blends contain NO cannabis, THC, CBD. They're non-psychoactive and sourced from botanicals. No cutting agents - We don't use any additives, diluents, or carrier agents to artificially enhance or dilute our products. 
---
We Also Recommend
---