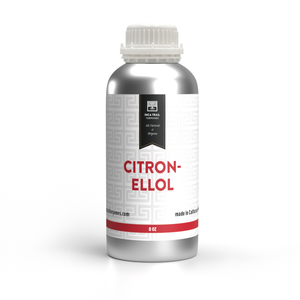 Citronellol
Citronellol functions as a fragrance ingredient and insect repellent when used in personal care products. This terpene isolate smells sweet, green, and floral, with fruity citrus nuances. Found commonly in lemongrass, flowers, and other plants, the isolate is used in perfumes, personal care products, and insect repellent.
You may be familiar with citronellol since it is one of the active components of citronella oil insect repellents and citronella candles. In fact, citronella has been registered as a gentle, plant-based insect repellent in the U.S. since 1948. 
Our Terpene Blends contain NO cannabis, THC, CBD. They're non-psychoactive and sourced from botanicals. No cutting agents - We don't use any additives, diluents, or carrier agents to artificially enhance or dilute our products. 
---
We Also Recommend
---