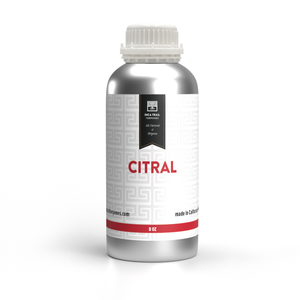 Citral
Citral is an aroma compound used in cosmetics, perfumes, and personal care products for its citrus scent. Extracted from lemons and other citrus fruits, citral is a great flavoring addition to a post-workout water as it has shown to increase metabolic rate, reduce weight gain, and improve tolerance to a glucose load.
Citral is one of the active components of citronella oil, which is a common ingredient used in insect repellents and citronella candles. In fact, citronella has been registered as a gentle, plant-based insect repellent in the United States since 1948. Some evidence suggests that citral, as well as the other active compounds in citronella, interfere with mosquito olfactory receptors. Citronella insect repellents have even been shown to repel dangerous Aedes aegypti mosquitoes, which are capable of spreading dengue fever and the Zika virus.
The United States Food and Drug Administration (FDA) includes citral on its list of substances considered Generally Recognized As Safe (GRAS) as a synthetic flavoring substance. The safety of citral has been evaluated by the Research Institute for Fragrance Materials Expert Panel (REXPAN).
Our Terpene Blends contain NO cannabis, THC, CBD. They're non-psychoactive and sourced from botanicals. No cutting agents - We don't use any additives, diluents, or carrier agents to artificially enhance or dilute our products. 
---
We Also Recommend
---