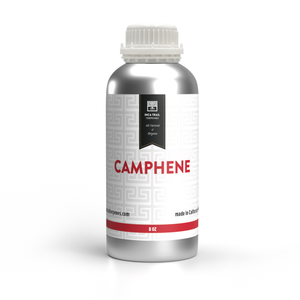 Camphene
Camphene is a solid terpene that is found in botanicals and is often found in many common essential oils. Other than cannabis, camphene is also found in citronella, camphor, neroli, valerian, turpentine, and ginger oil. Camphene produces an earthy or herbal aroma similar to that produced by myrcene.

Because camphene is an aromatic compound it is often incorporated in aromatherapy. Camphene is often commonly also used to treat mosquito bites. Apart from its therapeutic uses, camphene is also used in the preparation of fragrances and as a food flavoring agent. This terpene isolate can be found in prominence in the following strain blends:
Our Terpene Blends contain NO cannabis, THC, CBD. They're non-psychoactive and sourced from botanicals. No cutting agents - We don't use any additives, diluents, or carrier agents to artificially enhance or dilute our products.  This isolate will arrive in a solid state.
---
We Also Recommend
---