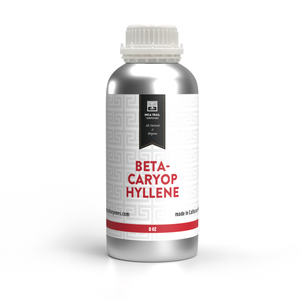 Beta-Caryophyllene
Beta-Caryophyllene is a versatile terpene isolate known for its distinctively spicy-sweet scent with a woody, clove-like aroma. Beta-caryophyllene is a terpene which binds to the CBG2 receptor and provides anti-inflammatory, anti-anxiety, and analgesic effects. This sesquiterpene is found abundantly in clove, rosemary, black pepper, and hops.
Overall, caryophyllene is a great ingredient as it has a stinging, spicy flavor with a slew of positive physiological benefits. Also, this isolate is a great tool to add if you or an acquaintance have ingested too much cannabis as it is known to counteract the effects of THC. More here.
Our Terpene Blends contain NO cannabis, THC, CBD. They're non-psychoactive and sourced from botanicals. No cutting agents - We don't use any additives, diluents, or carrier agents to artificially enhance or dilute our products. 

---
We Also Recommend
---