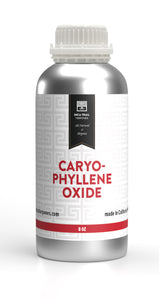 Caryophyllene Oxide
Caryophyllene oxide is a sesquiterpene that results from the oxidation of β-caryophyllene, which can occur during the harvest's cure. ... Caryophyllene oxide is present in plants' profiles like eucalyptus, lemon balm, oregano, wormwood, rosemary, guava, black pepper, and clove.
It's also present in many spices like basil, black pepper, and oregano, among other cannabis strains. It delivers a spicy, woody, funky warmth similar to cinnamon and cloves aroma. It has been used in cosmetics, drugs, food preservatives, and for training drug-sniffing dogs by law enforcement.
Our Terpene Blends contain NO cannabis, THC, CBD. They're non-psychoactive and sourced from botanicals. No cutting agents - We don't use any additives, diluents, or carrier agents to artificially enhance or dilute our products. This isolate will arrive in a solid state.
---