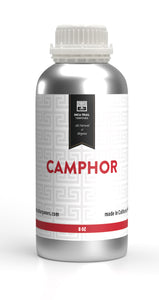 Camphor
Camphor is a waxy, flammable, transparent solid with a strong aroma. Camphor is a powder that originally came from the bark and wood of the camphor tree. Today, most camphor is synthetic, but not ours. All of our isolates are derived naturally from botanicals.
Camphor is in products that are applied to the skin, including FDA-approved treatments. It's a common ingredient in remedies applied to the skin for cough and skin irritation. 
Our Terpene Blends contain NO cannabis, THC, CBD. They're non-psychoactive and sourced from botanicals. No cutting agents - We don't use any additives, diluents, or carrier agents to artificially enhance or dilute our products. This isolate will arrive in a solid state.
---